This is my first post written for my new blog! How exciting!
At the start of 2020, I was done with national service and waiting for university to start in August. I did not want to waste the eight-month period doing nothing, so I applied for advanced credit modules(Programming intro course) at NUS and also did a lot of learning on my own.
I had already taken one or two python introductory courses on Coursera back in 2017 - 2018, during school term breaks. However, I did not really pick things up because I wasn't doing any projects, and learning to code without practicing was a disaster in the making. I could understand the concepts taught in the video lectures but I simply forget most of the syntax over time. At the start of 2020, I began watching Youtube videos in the tech space that was mainly filled with Youtubers like "Joma", "TechLead" etc. While Youtube videos may not be that educational or even of any practical value, the "developer" Youtubers often talked about similar topics such as "how to get better at coding" or "how to get a tech internship". From those videos and my past experiences, I knew I had to commit to doing side projects and practice coding more frequently. Funny enough, I picked web development as an area to focus on (and later found internships doing that stuff) because of a Youtube video.
So the reason why I picked web development was due to a video made by the now controversial Youtuber "TechLead" (who has 913K subscribers by the way, interesting...). Basically, it was a video in which he talked about how web development is a good way to prototype and have a visual appreciation of your work immediately. It's easy to show your work to others and you get a sense of achievement fairly quickly. Points were made and I agreed to most of them. What I also learned from this was that learning can take place anywhere, even while mindlessly surfing the web or succuming to the Youtube algorithm.
So earlier this year, I worked on getting better at web development in general. And I also had two goals in mind: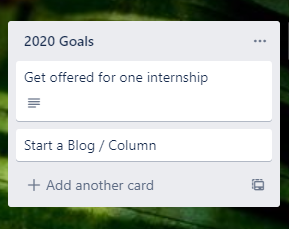 I had to learn enough to apply for an internship. And I would like to be knowledgeable enough to write articles related to tech. The goal of getting an internship before I embarked on my computer science undergraduate journey was challenging. I spent most of my time learning from tutorials and doing Leetcode questions. I created my very first resume and started to build projects to fill the void. I applied to a few companies where they seemed not to expect too much in their job posts. For a month or two, I was out of luck. The few that replied did not proceed further with me. Fortunately enough I managed to obtain an internship working for a startup and it was honestly a good ride. So long story short, I accomplished goal No.1 before the half-year mark.
It was goal No.2 that I wanted to talk about in this post. Besides the Imposter syndrome, writing a blog seemed to be really difficult to begin with and hard to follow through. I procrastinated and finally in September, I started writing on the platform "Dev.to". And I continued to do so with the aim to publish one article per week, till the end of this year. Happy to say that I generated over 30 posts and that amounted to over 16 weeks of writing streak.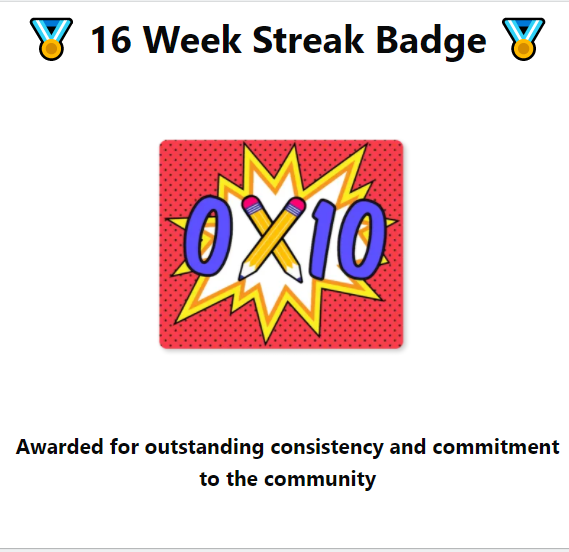 I am satisfied with the amount of time I put into this and the learning in that process. Writing and also editing the pieces were very time-consuming. I had to spend many hours before I could publish an article. I would need to generate code examples and explain things in (hopefully) a clear and concise manner. I learned a lot from the research and the poking around in the writing process.
So I did manage to do the tasks set for 2020. I am grateful for the opportunities and also the new people that I met in 2020. I will continue to write and also explore interesting job opportunities next year. The good thing is that things that are harder to begin with tend to be slightly "easier" to continue.
Coming to the end of 2020, I should write down my school/work-related goals for 2021.
Secure one summer internship (or NUS'CVWO)
Continue to write CS & web dev related stuff (at least on a Bi-weekly basis)
Be great at one module each semester (aim to TA for it)
Put in efforts to develop one of my ideas to fruition
Do one open-source project
Be wholesome and happy while doing the above:)
The end.